Bank
Type:
Structure
Found in:
Copper Lake, Darkridge, Dobwood, East Underlook, Greenwood, Park Hills
Tiles:
1
Banks are locations that can store items. Most of their previous possessions have been stripped bare after the riots.
In-game description
Edit
Outside:
The building seems dark.
A large computerized sign here displays a never-ending loop of the time and temperature.
Inside:
The lights are out.
An ear-splitting anti-theft alarm is screaming out in vain.
Items found by searching
Edit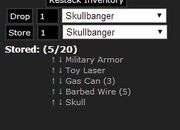 Every races can store items in vaults which are located inside every bank building. Storing or removing an item group requires 2 AP to preform. Vaults can store up to 20 items. Vault space is individual for each player and each bank shares the same vault content, meaning going to another bank would still have the same items that you stored in another bank.
List of banks
Edit
In Serling:
Booker Bank (496,519)
Bottcrest Bank (501,501)
Britewhite Bank (510,497)
Citizen One Bank (495,505)
Cobbley Bank (499,507)
Gold Peak Bank (520,498)
Success Bank (518,512)
Tubigg Bank (505,503)
You Trust Bank (517,492)
Ad blocker interference detected!
Wikia is a free-to-use site that makes money from advertising. We have a modified experience for viewers using ad blockers

Wikia is not accessible if you've made further modifications. Remove the custom ad blocker rule(s) and the page will load as expected.