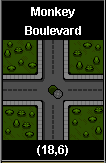 Humorous Locations
Edit
Several locations in Twilight City and Gravesend carry silly, strange, or outright demented monikers.
Horrible Puns
Edit
Sick Humor
Edit
Lynchey's Hardware (10,26)
Perverted Humor
Edit
The Bang Bang Club (2,15)
Streaker Lane (28,20)
First Base Sporting Goods (19,29)
The Jumper Building (21,33)
Pop Culture
Edit
The Krueger Building (29,7)
Romero Library (21,7)
Thriller Lane (21,9)
Otherwise Humorous
Edit
The Crabapple Building (10,23)
Dumname Hotel
The Lackluster Building (15,23)
McCain Bar (39,6)
Monkey Boulevard (18,6)
The Monkey Building (25,8)
Gravesend
Edit
Peanney Bank (12,3)
Whitey's Restaurant (19,17)
J.W. Gasey Middle School (17, 16)
Ad blocker interference detected!
Wikia is a free-to-use site that makes money from advertising. We have a modified experience for viewers using ad blockers

Wikia is not accessible if you've made further modifications. Remove the custom ad blocker rule(s) and the page will load as expected.