Home
Talk

6
252pages on
this wiki

We are currently editing 252 articles, and you can help.
Recent changes • New pages • New files • Categories • Templates • Wiki tutorial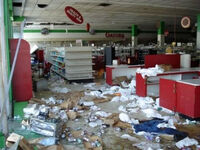 Eternal darkness has gripped the city of Serling. What's worse, gruesome fiends and horrific ghouls seem to have emerged from the shadows. Hundreds are already dead, and most of them are still walking the streets. What will become of you, fair citizen? Will you become a meal... or will you fight back the hordes? Perhaps you'll even join their ranks.
Screams pierce the still air, accompanied occasionally by the sound of explosions in the distance. The lights have gone out, and morning has not been seen for days. You are now entering Serling city limits, where any day can be your last.
Population: Dwindling.
Game news and updates

Update
by Mammon
September 17, 2014

Features

If you're level 5 or over you can now give items to someone who isn't considered an enemy
A crafting system has been added. New recipes and skills will be continue to be added.

Changes

Damaging things such as barricades will give people more notice

Bug Fixes

Track Prey wasn't working in most (all?) situations
Eating was removing all effects and wasn't supposed to
Areas such as the fort should show the state of the building again
Effects like Dazed should now wear off
There are some more bug fixes but I forgot what :P

Link to thread >


All news

Community Portal

Nothing at the moment (・╭╮・)

Create blog post

Recent blog posts

So yeah new main page. Big changes, though really there's not much change to it. I made the style for table boxes darker and sexier. I think it's rea…

Read more >

I think this is the best way to bring out the message. So yeah I want to become an admin here at this wiki. I know I've barely been here for a week, …

Read more >




Older blog posts