Stadium
Type:
Multi-structure
Found in:
Apple Junction;
Capricorn Village
Tiles:
9
Stadium is a location where large sporting events and shows are held.
In-game description
Edit
Outside:
This section of the building seems dark.
This section of the building is lit.
Inside:
The lights are out.
The lights are on.
Items found by searching
Edit
Item
Compartment
Concessions
Field
Gates
Gift Shop
Guard Center
Locker Room
Storeroom
Skybox
Weapons
Ammunition
Healing items
Utilities

Spraypaint Can
Walkie Talkie

Clothes

Fright Wig
Serling Salmons T-Shirt (Serling only)

Security Guard Uniform
Security Pass

Football Helmet
Football Uniform

Materials & Junk
Structure
Edit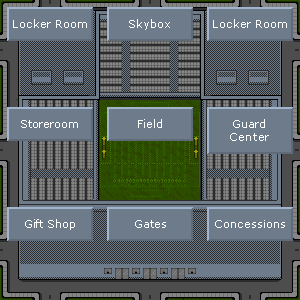 Stadiums are split up into nine different sections:
Locker Rooms (2)
Skybox
Storeroom
Field
Guard Center
Gift Shop
Gates
Concessions
Each section holds different items when searched. Players must enter through the gates if they wish to go inside the stadium. To go back out, the player must go out through the gates again. Only the gates can be barricaded by players. Any corpses dumped at the stadium will always end up outside the gates.
List of stadiums
Edit
In Serling
Serling Stadium (524,504), (524,505), (524,506), (525,504), (525,505), (525,506), (526,504), (526,505), (526,506)
Historic
Edit
In Twilight City:
Twilight Stadium (36,26), (36,27), (36,28), (37,26), (37,27), (37,28), (38,26), (38,27), (38,28)
Ad blocker interference detected!
Wikia is a free-to-use site that makes money from advertising. We have a modified experience for viewers using ad blockers

Wikia is not accessible if you've made further modifications. Remove the custom ad blocker rule(s) and the page will load as expected.