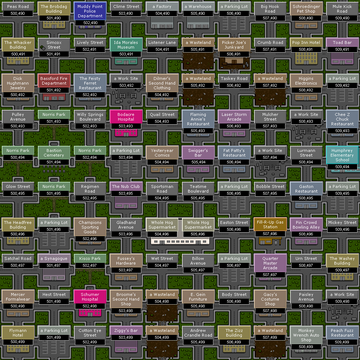 West Underlook
Edit
West Underlook, neighborhood in Serling (click for the map)
Buildings
Edit
The neighborhood includes 2 two-tiled buildings.
Two or more tiled buildingsEdit
1 School

Humphrey Elementary School (509,494; 510,494)

1 Supermarket

Whole Hog Supermarket (504,496; 505,496)
Important or useful buildings for supplies or basesEdit
1 Electronic Store

Higgins Electronics (508,492)
1 Hardware Store

Fussey's Hardware (503,497)
2 Hospitals

Bodacre Hospital (503,493)
Schumer Hospital (502,498)

1 Police Department

Muddy Point Police Department (502,490)

1 Fire Department

Bassford Fire Department (501,492)
1 Gas Station

Fill-R-Up Gas Station (507,496)

1 Gun Shop

Bott's Gun Shop (510,490)
Tall BuildingsEdit
This neighborhood also has 7 tall buildings which allow for jumping/suicide, and can be used as revive points for players who want to switch race, as it only requires 1 AP to jump, versus the amount AP it could cost for several attempts to kill (and revive, in the case of humans).
The Brobdag Building (501,490)
The Whacker Building (500,491)
Pop Inn Hostel (508,491)
The Headfree Building (500,496)
The Washey Building (509,497)
Flymann Hotel (500,499)
The Zizz Building (506,499)
Ad blocker interference detected!
Wikia is a free-to-use site that makes money from advertising. We have a modified experience for viewers using ad blockers

Wikia is not accessible if you've made further modifications. Remove the custom ad blocker rule(s) and the page will load as expected.